It's amazing that within half a year of XaW Files proclaiming the age of ABBBA in a parody comedy way while travelling in Sweden the four members of ABBA reunited on stage for the first time in thirty years. They didn't have the other B of the XaW ABBBA of course, as Beowulf is a fictional character, although probably based on somebody real. However, Scandinavian pop music is supposed to be very popular now too.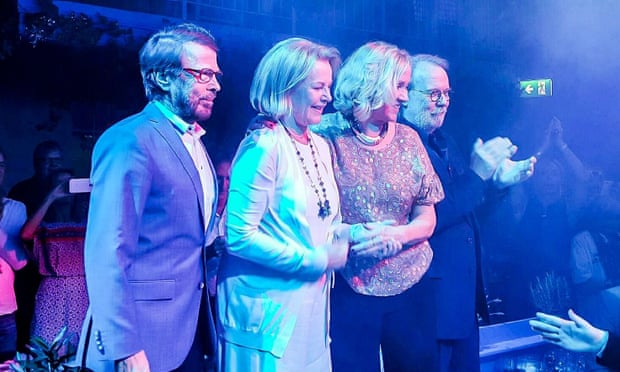 It was great to see them all together, enjoying the night and playing music live again.
Here's the two XaW Files episodes that led to the ABBBA age proclamation, after ABBA arrived in an ABBAlance at Liseberg amusement park, where the travel questers had gone looking for our anagram star, Love the mixed-up vole:
Chapter 8 Episode 19
I was delighted to see ABBA falling in love with the voles. The only wildlife I could remember in an ABBA song was the Eagle.
Mix-Up Materialises Mixed-Up
'It's strange to meet more voles so soon,' said Bjorn. 'We had just been to a Lay All Your Love On Me call, after a vole had flown off the Helix ride, and landed on an unsuspecting Flying Elephant working hard on its ride. The vole said its name is Love, but it seemed a little mixed-up.'
'That sounds like our mom,' squeaked Lovus and Lovulus in unison.
'Does Your Mother Know where you are?' said Agnetha.
'Do you know where Love is now,' I asked, trying to remain calm although of course very excited.
'Yes, we have her in our vehicle,' said Benny. 'Please come and see if it is the vole you know and love.'
Lovus and Lovulus led the dash to the ABBAlance. I knew it was indeed Love in the van when the two young voles simultaneously exclaimed 'Mamma Mia Voulez-vous' upon reaching the open door.
It was a poignant moment I'll never forget when I heard Love's voice reply 'Voley two, Voulez-vous.'
Lovely Reunion, Fine Tuning
We all rushed into the ABBAlance after Lovus and Lovulus, and reaquainted with Love. Needless to say, it was a truly lovely mixed-up moment.
Once we'd all cooled down, I said we'd better think about travelling to Norway, as there's only a couple of episodes left, and we just crossed into the second page. I asked if anybody knew the quickest way over the border.
Love showed she'd lost none of her sharpness when she answered, 'I think you just provided a clue yourself, remembering your skill at word letters travel. While I don't think you can claim a special way with words, you do have one very important thing in common with way.'
'Of course!,' I exclaimed, catching on almost immediately. 'Way ends with y, and so does Norway. I should be able to lead us directly in through the back.'
References
Lay All Your Love On Me, Does Your Mother Know, Voulez-vous and Mamma Mia are ABBA songs.
Chapter 8 Episode 20
Bo decided to stay in his homeland with ABBA, after they offered him a central position in their group, meaning their new name will be ABBBA; remembering this is a parody, and ABBA will always be ABBA really.
Bo made his debut for ABBBA singing Hasta Mañana to us as we left. We sang Me and I in return.
I led my travel companions into Norway through its y, finding an exit out of Ytter-Vikna. After checking on Google Maps we saw it's in Nord-Trøndelag county, in the country's north-west.
Time Travel to the Letter
We set off inland, and soon reached Drag,
not knowing we'd entered a time lag,
like jet-lag multiplied hundreds of years,
meaning a Millenium of time blurs,
the disappointment of being in the right place
at the wrong time was left without trace,
by soon after hearing Rolling Stones
perhaps rumbling down from Jötnar thrones,
Lovus and Lovulus combining on Mother's Little Helper
with the words What a Drag it is Getting Old apt nostalgia.
When we reached Drag village I was surprised there was another flag flying instead of the Norwegian.
We looked it up on Wikipedia, with our communications still working, and identified it as the Arms of Eric of Pomerania, suggesting we'd travelled back to the Kalmar Union age of 1397–1523, when the Scandinavian peninsula and its territories were united under one monarch.
I realised I must have led the others out into Ytter-Vikna through its V instead of its Y, with my lower dash showing signs of cramp now I came to think about it. I couldn't remember tucking it up into my upper Y v though.
When I told the others what I thought had happened, Lovus joked that I should have learnt my Ps and Qs instead of focusing on Gs and Ys. After laughing with the others I said were (sic) talking about Vs and Ys here, but admitted that Lovus was still generally correct, for it is best to know as much as you can about all the letters.
International Troll Hunter Trap
I didn't think it'd be a problem speeding up half a millenium, but then a man with a gun approached us, and asked us if we'd seen any trolls, in a language we found hard to understand. Love exclaimed 'trolls' nervously, and hugged Lovus and Lovulus.
Chris said we'd only just arrived, and hadn't seen anybody or anything else.
The man harrumphed, seeming irritated. 'You don't know where you are do you,' he said.
I said we had just checked, and found out exactly where we are, after at first emerging in Ytter-Vikna without knowing where we were… although I of course knew I was a were.
'You must have been aiming for Tromso,' said the man, 'using its neighbouring island of Kvaloya to guide you. You must have mistaken Kvaloya and Ytter-Vikna's neighbouring island of Kalvoya, and ended up here. I have just travelled from Tromsoya, and can attest that the region is just as beautiful as this, but I was able to travel there and here without problems, whereas you seem to be totally lost.'
I had had enough of this nonsense, which I didn't even consider worthy of being called literary. I replied, 'I have been lost many times in my rambles, and while some have been because I didn't care where I was going, other times I did become lost while aiming to go somewhere specific. However, this is not one of those times. I was trying to find the easiest capital Y to enter Norway, so I wasn't aiming for Tromso, or even Tromsoya, although I would very much like to visit there. We are where I intended travelling geographically, although I must admit we are 500 years out historically.'
Moving the Trollposts
'You haven't caught any trolls have you,' he said, after not much deliberation, moving a couple of posts with a net in-between. I had thought it was a football goal, but now realised it must be his troll-trap.
'We don't want to see any trolls thank you,' said Love. Lovus and Lovulus definitely looked as if they didn't want to see any trolls, seeming to have an instinctual fear of the mythical monsters.
'I bet you wish you had a couple of trolls like I have in my bag,' he said, motioning towards a sack with a couple of lumps in, not seeming to have listened to a word we'd said; or understood them anyway.
'For the last time,' I said, 'we are in the right place but wrong time. We are trying to communicate with you as clearly as possible, but we are obviously not speaking a language that translates into your mindset. While our communication together is just about mutually comprehensible, our schemas are miles apart. We say time, you hear trolls.'
Mistaken TrollYdentity
'So you admit to being trolls now do you,' said the hunter, raising his gun.
I had given up trying to communicate with him now, and the voles seemed equally exasperated.
However, Chris took a couple of steps toward the hunter, saying 'If I could just examine the trolls in your bag sir, I think it will help to move our conversation along.'
A loud shot rang out, announcing humanity's presence in the polar borderlands. Some birds broke cover as Chris fell to the ice, unable to take another stride, and with no more words to speak.
Rolling Stones Gathering
'Another troll for my bag,' said the hunter, 'that's a bag-troll hat-trick this morning.'
The loss I felt made my heart sink, but my hopes were lifted when I saw what looked like one of the Jötnars' rolling stones heading our way, behind the hunter. The hunter was still talking and mocking, enjoying his kill. I looked at the voles, and they seemed to be thinking the same thing. None of us moved an inch.
I don't know if there were ever any Norse gods in reality, or if they were just a created mythology, but if they instigated the rolling stone they sure did us a favour. It crashed into the troll trap, but the net didn't stop it.
The hunter heard it sweep up the net. He shouted 'Don't harm that net,' obviously caring more about his trap than any of us. The stone of course took no notice, continuing over the hunter, taking both with it under the wild waves of Hamnvatnet.
References
Ps and Qs: https://en.wikipedia.org/wiki/Mind_your_Ps_and_Qs
Jotnars on Wikipedia: https://en.wikipedia.org/wiki/J%C3%B6tunn
Available to buy or borrow on Amazon and some great big bookshops.

You Are The Boss of Your Own Happiness: 50 Ways to Change Your Life Today by Theo Kay. $3.99 from Smashwords.com
50 Ideas for you to change your life today. You are the boss of your own HAPPINESS!